February 15th, 2016
National Children's Dental Health Month
February is one of our favorite months here at Commerce Park Children's Dentistry & Orthodontics, and it's not just because of Valentine's Day! February is National Children's Dental Health Month (NCDHM), and this is a truly important cause that we're extremely passionate about. We believe that everyone deserves a beautiful, healthy smile - and that means starting early!
The Importance of Pediatric Dental Health
While baby teeth eventually fall out, that doesn't mean taking care of those teeth isn't important. Deciduous (baby) teeth play a lot of important roles in dental development, helping a child learn to chew, swallow, speak, and breathe, and they serve as guides for the permanent teeth once they erupt. In addition, children learn their dental habits with their baby teeth - so teaching them to brush and floss every day at a young age is crucial to their lifelong smile.
Ways to Celebrate
To take full advantage of this important holiday, try celebrating it with your child in ways that make dental hygiene fun and easy. If you don't already, turn brushing and flossing into a twice daily ritual - think of it as family time with you and your child. You can even turn it into a game: if they brush their teeth for 2 minutes twice a day for the whole month, they might get a special prize or family trip. Additionally, the American Dental Association has created a wealth of fun posters, maps, and games centered around the month - they're free to download, so check them out!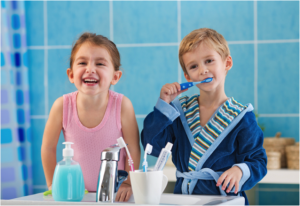 Contact Your Bridgeport & Huntington Pediatric Dentist
Have more questions about NCDHM? We're here to help. Feel free to call us at (203) 371-8282, reach out to us at our contact page, or use our easy online form to schedule an appointment at our Huntington or Bridgeport, CT office. We can't wait to hear from you, and we hope to see you back at this blog for more tips and info on keeping your child's teeth healthy and strong!